Planned Maintenance
With daily demands increasing and available time decreasing, you need assistance.  Let our PM Program take away some of the burden.  Our program is designed to monitor the performance of your water treatment equipment and identify small problems before they become large ones.  Pro-active maintenance allows your system to run at peak efficiency and ultimately save you valuable time and repair costs.
All Water Systems takes the time to understand your system, application, and water usage so that we may tailor our maintenance programs to your specific requirements.  Monitoring the performance of your equipment reduces downtime problems due to unexpected breakdowns, as well as extending the life and quality of performance from your equipment. 
All PM visits are followed up with a report outlining key metrics and recommendations.  Service technicians are also available during the PM visit to review any questions or concerns regarding the equipment.
| | | |
| --- | --- | --- |
| Benefits | | Optional Features |
| | | |
Rebed
Over time, the media in carbon filters, water softeners and sand filters will foul, degrade, or become exhausted and require replacement. This doesn't necessarily mean that you need to replace your equipment, a rebed may be all that is required to have your system back in spec.

With over 40 years of industry experience, All Water Systems has the expertise to work with any size and brand of equipment you may have. Our rebed service will remove your existing media and replace it with the appropriate quantity and quality of new media to restore your equipment to original operating standards. Our custom rebed equipment allows us to work quickly and efficiently to minimize downtime and maintain a clean jobsite.
Benefits

Optional Features
Retrofit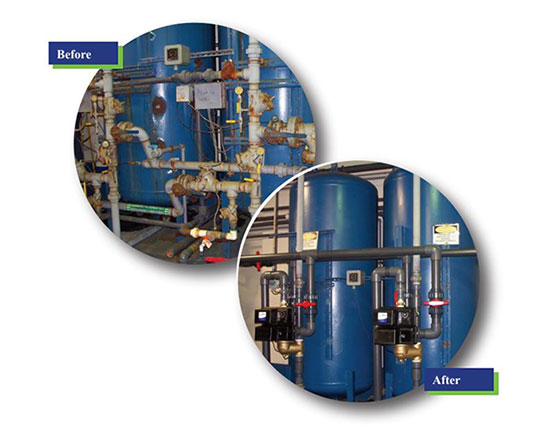 Your equipment is older and not performing at the same level it once did. The bones are solid, but portions of it are beginning to fail and give you inconsistent performance. Replacement parts are becoming obsolete, and you need to update it to modern standards. If your budget does not allow for system replacement, a retrofit will bring your antiquated equipment into the 21st century.

Having experience with practically every system on the market, we have the expertise to retrofit most brands of equipment. All Water Systems will work within your budget to update your controls, valves, and other components, leaving you with equipment that is both reliable and efficient at a fraction of the cost of a new system.

Our commitment to you does not stop at the retrofit. Technicians will train your operators on the new components and be there for any future service that may be required. We also offer planned maintenance programs that will ensure that your system stays operating at peak performance.
| | | |
| --- | --- | --- |
| Benefits | | Optional Features |
| | | |