DI Water Exchange
If your application demands high purity deionized water quality, you need All Water Systems. We specialize in deionizer exchange service and understand that a consistent, reliable supply of DI water is critical to every aspect of your operation.

Producing consistent, high quality, exchange tanks is accomplished with our three state of the art regeneration plants where we control and monitor every step of the regeneration process. Each batch of ion exchange resin is quality tested multiple times throughout the regen process to guarantee optimum performance and consistency in each tank.

Our DI exchange tanks are available in multiple sizes and are ready to meet any requirement; from low flow rates producing a hundred gallons to high flow rates producing hundreds of thousands of gallons. We will work with you to determine the best dionization system to meet your specific flow and quality requirements supplying you with all the necessary support equipment as well. Our customers have come to expect a reliable and long-lasting high purity water products from AWS
Benefits

Optional Features
Laboratory
Delivering 18.2 Megohm quality lab water is critical to your analytical and research work. Our of state-of-the-art laboratory water purification systems are designed to meet or exceed the Type I, II, III reagent-grade water platforms set forth by CAP/NCCLS or ASTM standards for lab water treatment.

The water is purified using a multi-stage purification process. An intuitive, "touch-screen" display monitors system health and the remaining life of your consumables. Intermittent recirculation ensures that the water inside the unit is continuously moving when not in use, mitigating any chance of bacterial growth. Convenient, programmable presets allow you to dispense frequently used volumes with speed and precision consistently.

AWS provides a cost-effective, space-saving solution for various applications including academic, research, clinical, or chemical. And our larger volume replacement cartridges won't break the bank.
| | | |
| --- | --- | --- |
| Benefits | | Optional Features |
| | | |
Regenerative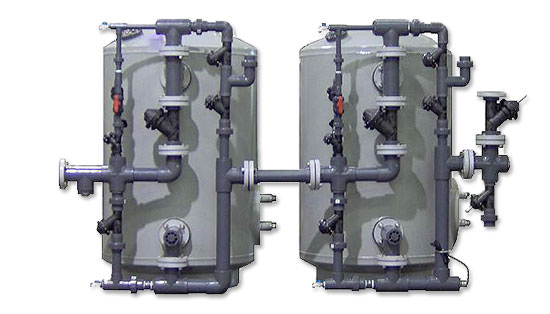 When your industrial process requires high purity deionized water, look to AWS for a solution. Our regenerative deionization systems are available in two bed or mixed bed configurations for applications requiring only trace levels of dissolved solids.

Standard designs are available for product flow rates of 5-350 GPM. All systems are completely factory skid mounted, pre-piped, pre-wired, and pre-tested for minimum installation time and cost. Duplex alternating or lead-lag series systems are available when continuous DI water demand and high purity water is required.

Let AWS takes the guesswork out of your selection by learning about your process, application, and feedwater to determine the best system for you.
We understand how best to integrate the equipment with your deionization process in terms of quality, demand, and usage.
| | | |
| --- | --- | --- |
| Benefits | | Optional Features |
| | | |